The Hillside Retreat is situated on Penang Hill. There are a few ways to get to the Hillside Retreat:
4×4 Pickup Service – Botanical Gardens
4×4 Pickup service can be booked and arranged with the Hillside Retreat.
Our Jeep service starts from 9am to 4pm only, extra charge at RM 40 per hour outside working hours
Guest can park their car outside the compound area for overnight at own risk.
Hiking
Guests can choose to hike up Penang Hill. Please see here for the hiking trail. The hike takes around 90 minutes.
Funicular Train – Boarding at Penang Hill Station
Funicular operates throughout the year except when special announcements are made for maintenance. Information about tickets and operating hours can be found here www.penanghill.gov.my.
All guest are encourage to travel light with small luggages to Hillside Retreat. Large luggage are prohibited inside the funicular train. Hillside Retreat doesn't hold any responsible if the funicular train operator reject guest boarding to train due to luggage are too big and heavy. If other other wise, kindly seek for our jeep service if there are too much of luggages.
There are 2 stops you can alight to get to the Hillside Retreat
Stop 1 – Upper Tunnel Station (Red Path in Map)
(Approximately 10 minutes' walk – Comfortable path)
– Board the front cabin and inform the driver that you wish to alight at "Upper Tunnel Station" as the funicular does not normally make a stop there.
– Luggage or goods can be placed in the box at the front of the funicular
– Alight at Upper Tunnel Station, walk along Tunnel Road to arrive at the Hillside Retreat
Stop 2 – Upper Station (Yellow Path in Map)
(Approximately 10-15 minutes' walk)
– The funicular will make a stop here automatically
– Luggage or goods can be placed in the box at the front of the funicular
– Head in the direction of Monkey Cup once you exit the station
– Keep an eye out for Bypath B signage
– Walk down from Bypath B until you reach the Hillside Retreat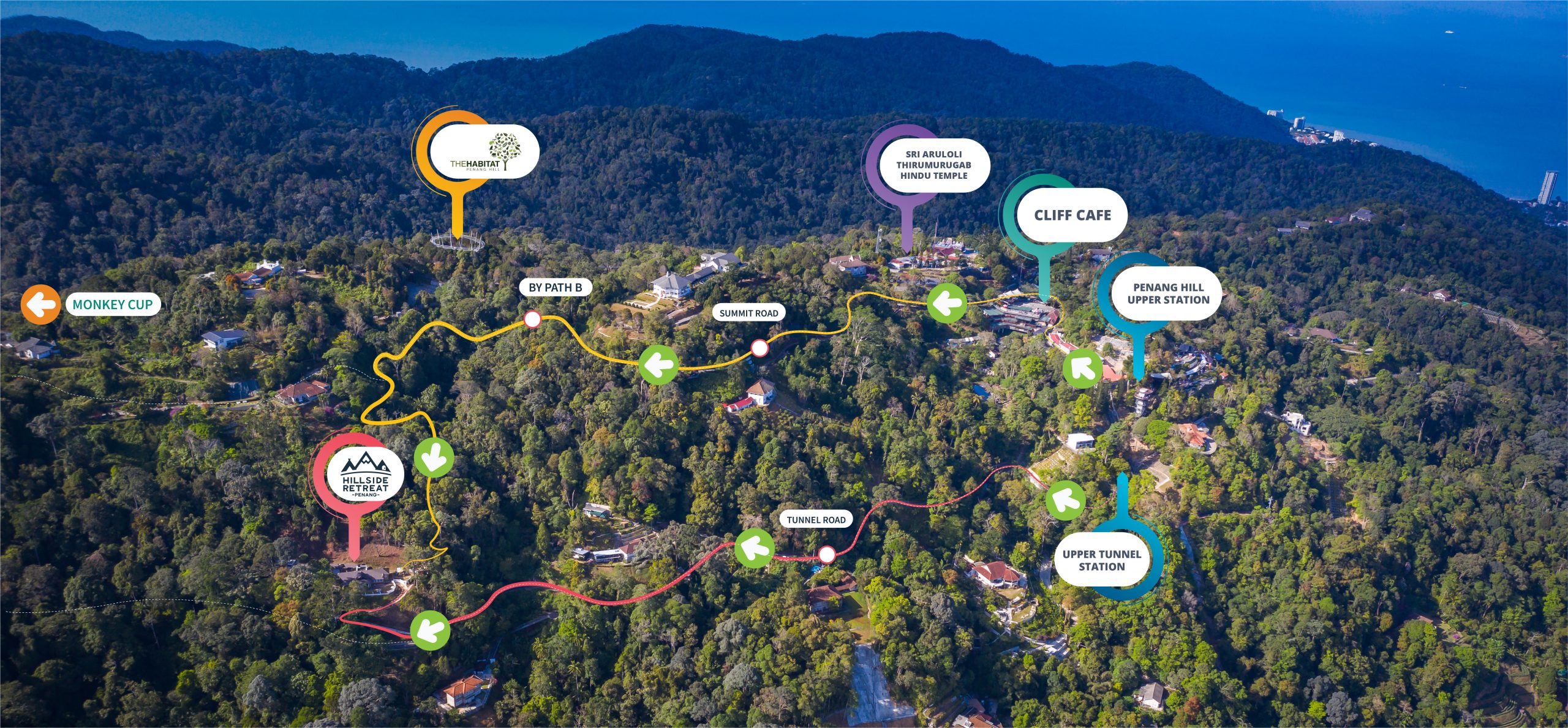 PENANG HILL POINT OF INTEREST MAP
CLICK TO DOWNLOAD